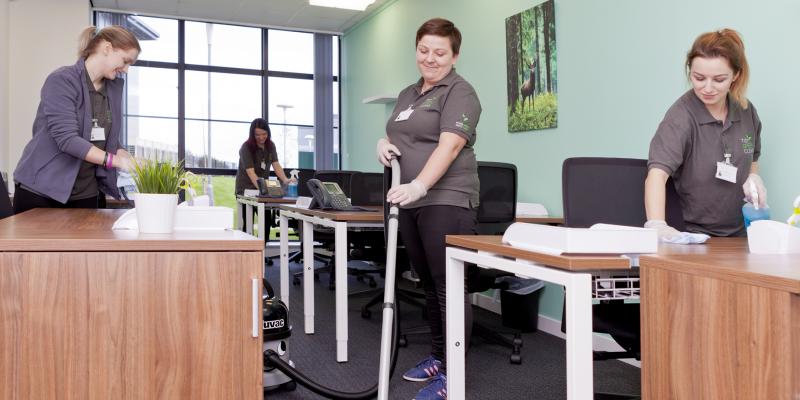 1 Pitstruan Place, Aberdeen, AB10 6PQ
07976924037
grant@tidygreenclean.co.uk
Tidy Green Clean
We are a family owned environmentally friendly commercial cleaning company who offer a range of commercial cleaning, facilities management and security services.
Your happiness is our first priority and we look forward to meeting all of your needs.
Although we cover the whole of Scotland our team of Regional Directors make sure our business remains firmly rooted in the local community.
We believe that local communities are the backbone of every town and city in the country and that is why we don't only create clean and clear working environments whilst helping local businesses grow, we also support local charities and projects.
Our services
We offer a range of environmentally friendly commercial cleaning services, from office cleaning and computer cleaning to window cleaning and carpet cleaning.
We also offer facilities management and security services so that all of your building management needs can be met in one place.
And we can do this because of our dedicated and experienced TGC Dream Team who go above and beyond to make sure they meet our customers' individual needs, leaving their property tidy, green and clean.
But please don't take our word for it, here is a quote from one of our customers:
Our team
"Our consistently first-class results come from our people, who are without question the most important part of our business."
These are the words of our Tidy Green Clean Co-founder Andrew Alleway and it really is true.
Without our TGC Dream Team there would be no Tidy Green Clean and we place their well-being and happiness at the top of our list.
We believe that everyone should have the opportunity to provide for themselves and their families, to spend time with them and to do the things they love.
This is why each and every member of our TGC Family are not only paid the living wage but also have a work life balance that meets the needs of both them and their families.
Our environmentally friendly model
We are passionate about the environmentallyfriendly service that we offer and how we run our business is no different.
 From reducing waste and paper use to turning off lights and electrical equipment we always aim to do our bit for the environment and the world around us.
 The safety of our cleaners, customers and colleagues is always at the forefront of our minds so we use and promote environmentally friendly cleaning products that contain no harmful chemicals.
 This allows us to offer a safe environmentally friendly service without compromising on quality.
 Finally, we are always on the lookout for products that not only benefit the environment but also improve efficiency for our customers.
 From microfibre cloths and flat mops that reduce (or eliminate) the use of cleaning products to low wattage vacuum cleaners, we have products to meet every need.
So, if you are looking for environmentally friendly commercial cleaning, facilities management or security services in Stonehaven or beyond then our TGC Dream Team have you covered.
You can find out more about us, our team and our services by visiting www.tidygreenclean.co.uk